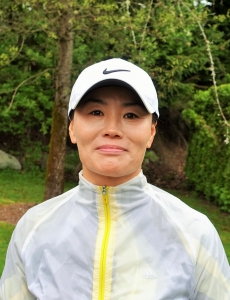 MI SUN YOO, KLPGA
CPGA Class A Golf Professional
Head Korean Instructor
BOOK A LESSON (KOREAN SPEAKING ONLY)
Mi Sun has an impressive background in elite sports that she draws on to bring the best out in your golf game. She was a key member of the Hyo Sung Volleyball team in her home country of Korea and won seven National titles in the 90's. She graduated from Myung Ji University in Physical Education and holds a certificate as a Physical Education coach.
Mi Sun began playing golf as a young lady but her passion for competitiveness drew her to improve her skills and turn Professional in 2003. She moved to Canada in 2005 and became a CPGA member soon after. Mi Sun has been a key member of the Academy Teaching team for over 12 years. She is a supporter and ambassador for women's golf and enjoys many successes coaching her Korean clientele in the TriCities area.
Her relaxed style and good nature allow her students to feel at ease when taking a golf lesson, allowing them to learn and play their best. Mi Sun's solid understand of the finer points of coaching the game will give you the skills and roadmap to becoming a better player.